Updated: September 2019 - Once a year updates? Good enough? Review of Anne Springs Close Greenway in the News, more to come soon.
Features and Headlines:
September 25, 2019 - Cycling at Anne Springs Close Greenway - Review of the trail system in the news.
2017 Eclipse at 99% - My take on the eclipse at 99.2% magnitude. Under whelming but photos and story in the news.
Festival of Lights - Niagara Falls is waiting, November 19, 2016 to January 31, 2017.
Windsor Waterfront Trail ride - See what fun you can find in Windsor, Ontario, right outside the Casino.
The Henry Ford Review - The Henry Ford - A must visit, for more than a day.
The 2014 C7 reveal - October 2017 Two Years Ago - City Chevy - Unveiling Rick Hendrick's Second Charity Corvette C7 2014 Vin # 2
Recent Photos:
Windsor Waterfront Trail - Pictures from the parks along the trail.
BMX Rail Ride - Check out a first attempt stair rail ride.
The Henry Ford museum - So much more to see..
Greenfield Village - Beautiful in fall, both 2015 and 2016.
Entertainment:
Movie Reviews - Three Stooges, The Girl with the Dragon Tattoo
Book Reviews - The Girl with the Dragon Tattoo, The Girl Who Played With Fire
Sugar Mountain put in the Chondola 2015- My last article on Digital Journal
Charlotte Motor Speedway - Fall auto fair 2015 on Digital Journal
Thin Blue Line 2013 - Re-posted from my article at Digital Journal.
Carnival Cruise Western Caribbean 2012 - Full detailed write up of this cruise on the Legend out of Tampa, FL.
December 2012 - A visit to the Georgia Aquarium - Amazing what you can see and do at the aquarium.
Vancouver Island Favorites - Check out Vancouver Island parks and trails in the News, then go find the ones I haven't.
Aviation News- Museums and Air show, August must be Aviation month!
Summer Vacation 2012- Lets all go to the races!
Summer Vacation 2012 Photos - The kids, grand kids, races, and Lion Safari (what I could fit in 50 photos).
Cruising with Mom and Dad- Port Canaveral to Bahamas, a nice diversion.
Photos Cruise 2012 - Bahamas Cruise, 2012 with mom and dad
Vail and Denver, March 2012- Nothing like Colorado, Vail and Denver.
Whistler, Victoria, Blaine, 2011 - Don't miss this write up and the beautiful photos! Everyone should do this for Thanksgiving.
Miami and Bahamas, December 2011 - A fun 4 day cruise and a night in Miami, what fun.
October 2011 - A recap of October in photos, no big news update until next month, then look for Victoria, BC information and a mini Bahamas cruise.
Fall Fun - A Fall Hike and Fall Fairs
Winthrop Lakeview Disc Golf Course- An overview of the course.
Winthrop Lakeview Disc Golf Course - An album of the course, may add more photos later.
Summer 2011- Weddings, Disney, parks etc. All the fun in the news.
Midland First Annual Ace Race- Who won, how did it play, when's the next? Come read the details.
Midland Ace Race- Link for next years updates.
Mississippi - Tupelo, Memphis, Elvis Presley, Beale Street, Tunica, - Just fun, check it out.
Mississippi Photos- Beale St., Memphis, Graceland, Elvis Presley Park, Tupelo.
Tunica Photos- Tunica Riverpark airboat ride, and the evil Sam's Town employee.
Chattanooga -- Great Food, Waterfront Festivals and Fun - A fun place to visit.
Chattanooga, TN- A few water front photos in Chattanooga.
New Orleans and Biloxi Bound. - First Long weekend of the season, getaway. News and photos.
New Orleans and Biloxi Photos- Sites around New Orleans and Biloxi.
Fun at Maxton, NC - Land Speed Trials - ECTA - Details from the May 2011 meet.
Maxton Photos on Flicker - Find yourself or car from Maxton, NC, May ECTA meet up. Email for prints or high quality digitals.
Pink Slips Women's Car Club Photo Shoots - Car buffs check this story and VOTE for Sally...
Pink Slips LMC Photo Album- Photos from the day at Legendary Motorcar Company
Riverbanks Zoo Photos - An afternoon at the zoo.
Summit County, CO. - Quick update, on the Summit county Bears gathering..
Castle Mountain Photo Album - Lots of ski, scenery and friend shots. Find yourself.
Castle Mountain Winter - Friends, fun and work. - All the details, slide show and photo album.
Warning, HHGregg Return? - Read and be wary; features update.
Houston and Area - Houston, Galveston and the Gulf coast, what to do with 4 days in the area.
October in the Carolinas - Myrtle Beach new, Fort Fisher Ferry fun, York Fall Festival.-------Slide Show here too.
Fall Colours- Blue Ridge Parkway fall colours on Flicker
Victoria, Whistler, Whale Watching, - Finally added the details on a terrific spring vacation to go with the photo album I uploaded in the spring.
Port Dover, Friday 13th Ride In - Photos of the Port Dover Ride in.
Victoria, Whale Watching, Whistler - Complete pictures from my whale watching excursion in Victoria, BC, and the rest.
7 Days 4 Resorts, Utah, Big Mountain Fun - Salt Lake city Utah, a great place for skiers. Check it out.
It's Better in the Bahamas - 4 day, 3 night mini cruise to the Bahamas; get all the details.
A Wedding! November 7, 2009, Leonard and Jenny Parker - The big day.
What about the Norfolk Area-Favorite places to eat in Virginia Beach, Chesapeake area and what to see.
Atlantic City, Long Weekend -Why we keep going back. Where to eat, sleep and play
Washington with Grant and Donna -Great time. So awesome to meet up with old friends, and Shelby, you're not 2 any more!
4 Days in New Orleans - What a great get away. We escaped for 4 days and 3 nights to New Orleans.
Atlantic City Weekend -Caesar's invited me for the weekend, free flight for two, free rooms and most meals free. Well it's never really free, but it was nice.
March Break, 2009 - Katrina and the family come to Myrtle Beach.
Wintergreen, VA , Closing Day, 2009 - A day at Wintergreen Ski hill, and we thought ski season was over.
Summer 2007, wow - Catch all the up to date news on who did what, and the latest pics.
New York City New Year - Happy New Year 2007!
Wow Vegas, A Modern Wonder -What a birthday.
Richmond & Portsmouth, VA - What a weekend it turned out to be.
Len and Jo-anne Graduate- Definitely the highlight of my year was these two making it to graduation!
S.N.A.R.T. Group of Racers -Fun weekend, details in the news.
Natalie and Jay at Disney - A surprise visit to Florida for my niece and nephew, details here.
Holiday July 2005 - Rockford and Chicago highlights from 2005,click to go right to the story.
Skiing In North Carolina - Yes, there really is skiing here! See pictures, links to hill sites and more. Click to read.
Cruising the Caribbean - Nice cruise pictures and details.
Fit and Forty - How I did it!
September 25, 2019 - Going to get back to regular updates. Seriously......
(Whistler January 2019 Iphone Panorama)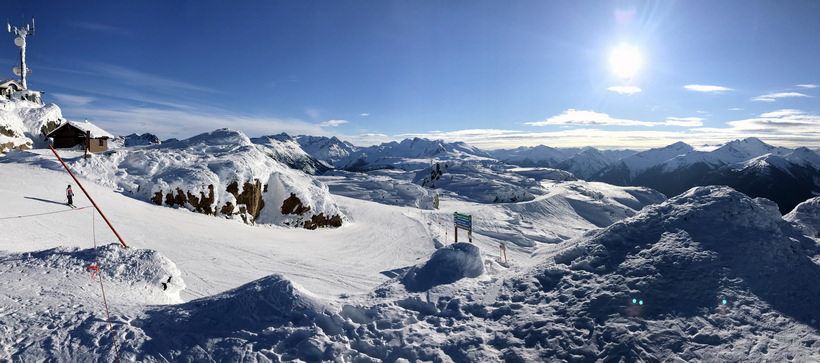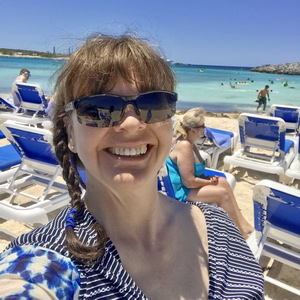 Yes I did Whistler again 2018/2019 season and will be heading out very soon for my 4th season at Whistler. It was my third season full time privates, teaching skiing all winter. The sun shone way more than the previous two winters, with many days looking like above. I rarely take the time to get the good camera out when I'm working 7 days a week but my iphone managed to get the odd good shot. This update will cover off highlights from my past year and then I intend to get back to regular short quick updates. If i aim for once a week maybe I'll get it done once a month.
It's been one of my busiest years ever. On top of heading to Whistler last December for the season, I left a week or two before the season end to head on a cruise and did a cruise the week before I went out to Whistler with my 84 year old mother and niece who shared a room with her to help out. After the cruise I had a jam packed off season. There was Mother's Day at Abasin annual gathering with the pugski crew, the grand daughters (two of them) came to stay for summer as soon as school was out, I moved to a bigger house mid summer with grand daughters in tow, then 4 days after moving in picked up my grandsons and their mom for super summer vacation of camping in Niagara Falls KOA, then camping at Myrtle Beach State Park, and a cruise out of Mobile, AL on Carnival Cruise Lines as all the kids had been dying to go on a big boat. They loved it. That took me to Labour Day weekend.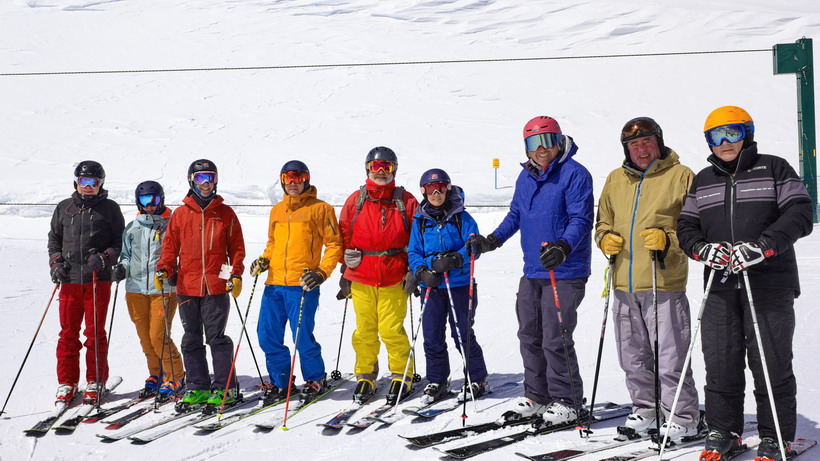 Finally time to get my new house unpacked some! Well I did bring my mom down for a couple weeks visit after taking the grand kids home for school, but I was able to unpack some between shopping trips with mom. Prior to September I had only set up the necessary sleeping furniture, unpacked summer clothes, managed to get the living room set up with a big wall tv sitting on the floor, dining furniture and bar stools around the island in the 4 days I was home in August and the rest was in boxes in closets. Like I just can't see the end.
It is now starting to come together. I have a spot to work in the office, my TV is hung on the wall (a life long dream of mine to have a TV that hung on a wall), slowly more of my clothes are getting to the dresser and out of suit cases, the kitchen is almost fully organized and fun to cook in, and I found my bicycles and started riding again (check out my new riding trails review in the News), have a gym set up with my rebounders, a screen for workout videos, and I'm getting in shape for the coming ski season. Now that mom is gone back home and the grand children are gone home and back to school, I have two months to get in shape for the next ski season, the rest of the house unpacked, updates and stories on my news page and begin to enjoy my Alexa enabled new home. Too bad she doesn't unpack, says she doesn't know that one, likely excuse.
Okay it was so much fun camping and cruising with the grand kids I have to post my favorite photos from the summer. They all look like porcelain dolls here.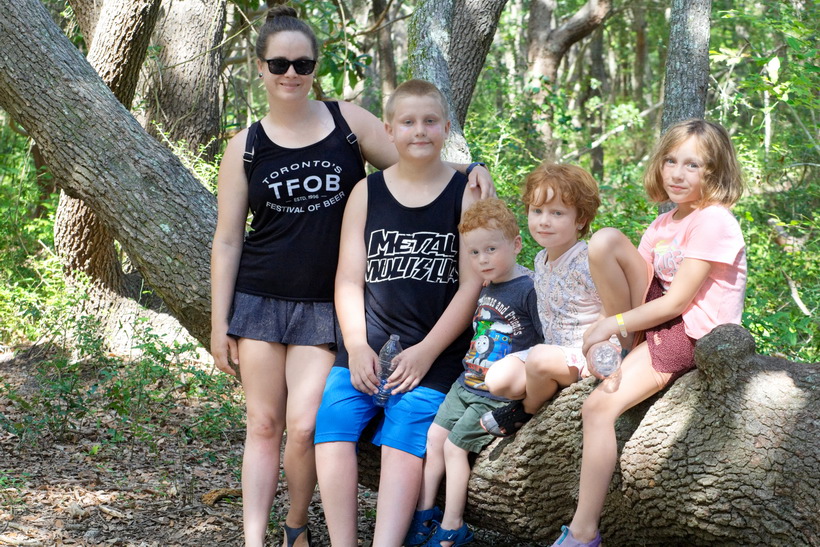 November 11, 2018 - Updating for the year..more to come.
(Autumn in North Carolina - November 2018 Crowder's Mountain Pinnacle Trail views.)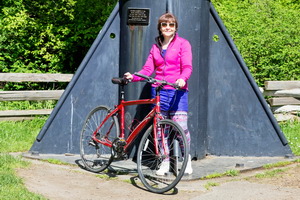 It's just crazy that I haven't updated in 10 months. Slacking on getting some working software to run updates. My files corrupted when I was away last winter and I'm just now getting it all fixed. Hopefully it will all be fixed and working so this winter I can run some updates and maybe get caught up on some photos. I have 1000's of photos that really need to get uploaded to stock. Love the parliament one below from Victoria, BC in the spring. It should have been uploaded to my stock portfolios for editorial use but I slacked on that this year. Here's the year in short form and hopefully I'll get a Cruise News done, since I cruised last week and maybe a more detailed news article on Victoria.
I spent a week in the spring at the end of ski season at my brother's in Victoria, BC. Awesome city, borrowed his bicycle and did some paved trail cycling. They have 100's of miles of paved trail running from city to city and at most times the cyclists even have right of way. Cars have stop signs at the path crossings. Best city trail system and cycling lanes I've seen. I got in a few hikes also; Vancouver Island never fails to entertain me with it's beauty, cycling and hiking trails kept up and built upon for all to use. I'll have to put a photo album, I have just too many beautiful scenes from the Island to pick just a few. Or maybe that will be a full news review. Finlayson Mountain in Goldstream Provincial park was a strenuous hike with my brother and a rewarding view when we reached the summit.
Closer to the city, Mount Douglas made a great spot to watch an evening sunset after a short hike, and a ride downtown to check out the opening of the new Johnson Street Lift Bridge which my brother took a sabbatical from work to actually help work on it putting in the huge gearing. It is complete with a separate bike lane to continue the downtown bike lanes and multipurpose trail way on the one side. Way too much to cover in my update so more will follow on the news page.
( April 2018, summit of Finlayson Mountain, Goldstream Provincial Park, Vancouver Island, BC)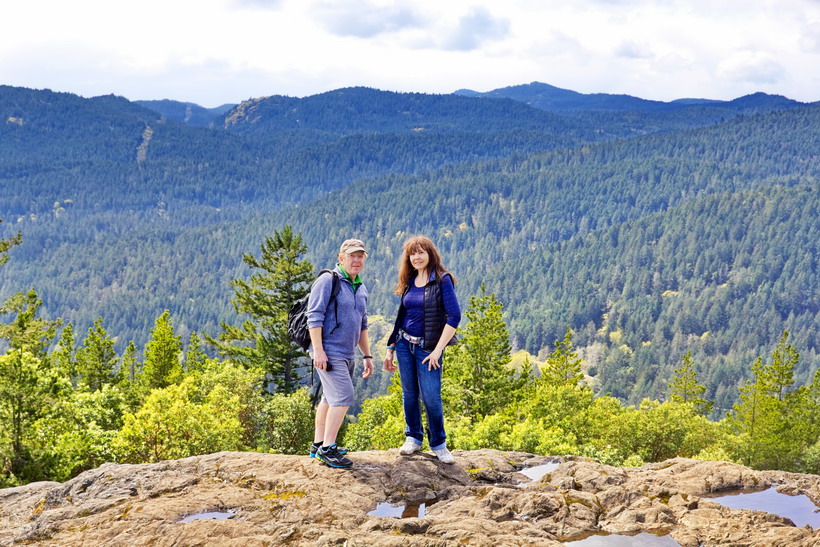 (Victoria, BC, provincial parliament building - April 2018)

Hamilton, Ontario has improved greatly on the cycling trails and lanes also. Had some great rides in Hamilton this summer along the waterfront, up the escarpment and by the Bruce Trail. Two of my granddaughters joined me for 8 mile ride on the escarpment trail, so fun they can go on real rides with me now. The cycling budget for the city is really showing. It's becoming a great place to live for recreational fun, with the waterfront parks, waterfalls, hiking and cycling; it is the best kept secret in Ontario.
Two grand daughters came for a visit for the month of July, little Tara finally managed to come and visit and stay away from home for a month. She's never managed to be away long before and this year she was set on doing it. We did some traveling and Carowinds and she came for two long visits, one before school was out without her sister and back for a month with her sister. Made things very busy for the summer. August was time for a needed break, spent a lot of it in home in Canada at my mom's and some time in Detroit. Renewed my Ford museum and Greenfield village membership. I can never get enough of it.
I've been to concert's in Biloxi, a night in Florida at Foley Beach (beautiful), some fall photos back in Hamilton on the cycling trails, a cruise, it has been one busy year. No wonder I never got to this software fix and got my updates done! Well I'll leave the update to say, more will come in the news and photo page, hopefully in the next two weeks and not next year when ski season is done..
More updates and photos to come now that I've got the pc working with the software again. I'll finish off this year and get the previous years archived. Give me a week.
Jan. 5, 2018 - Another winter at Whistler.
(Whistler BC Panorama - December 3, 2017)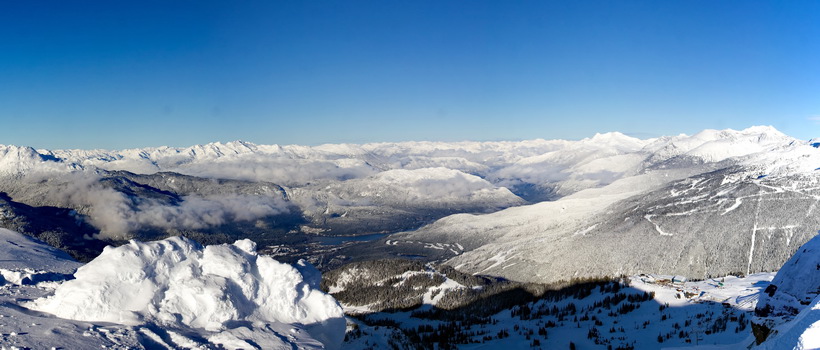 Back to Whistler for this ski season, teaching in Whistler privates. Can't believe the weather after last season never being able to see the mountain from clouds and snow this year it's views to infinity. The mountain tops seem to be endless.
I had some great surprises this year also. My son and husband flew out for a nice visit. The first time the three of us all skied together in years without others. I think my son had a great time and his skiing was as smooth as ever. Amazing how some people can be away from the skiing for so long or go very little and then come out and flow down the hill like they've been doing it for years. He was wishing he could move out this way but the cost of raising a family near by or getting housing at a reasonable cost makes it almost impossible for a young family. Great to see him get out and ski a few days though.
I just wanted to add a quick update since I never get updates done in the winter. Toying with the idea of actually trying to find time to do regular updates while I work over the winter. There's so many beautiful photos to be shown and fun to be posted about that gets missed when I get busy working. So far this year I've taken my CADS level 1 (Canadian Association of Disabled Skiers) certification, learning to make a Sit-ski work and tethering to help one down the mountain, assist blind skiers, understand learning disabilities. It was a fun course with a great instructor to add to my other ski knowledge and assist me as I teach all levels and abilities to ski or ski to their best.
Hopefully more to update soon, the views have been holding more often than not this year but we expect the coming week to finally bring some snow and more snow. Maybe I'll have a snowy update to come.
(The three of us at the inuksuk above Whistler Peak)